Hoefnagel's Medieval illumination of a manuscript - a crab, botanicals, butterfly, and flower watercolor sketch
I am in love with Hoefnagel's illustrations - this is a crab and botanical still life sketch drawing from the medieval manuscript, "Mira calligraphiae monumenta" or "Model book of Calligraphy". The vintage crab shows a little crab and a butterfly sitting on top of the crab. The two are sitting around a sketchpad full of flowers, a butterfly, insects, and a pear. The botanical illumination drawing is beautifully rendered in pen and ink and watercolor, created by medieval nature illustrator Joris Hoefnagel (Flemish and Hungarian, Austria) in the late 1500s.
Hoefnagel's illuminations showing food, botanicals and insects were what Hoefnagel was known for painting. He rendered his botanical images and insects with precision.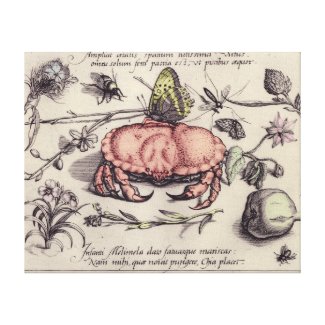 Vintage Crab, Botanicals, Insects, and Flowers Gallery Wrapped Canvas
by
antiqueart
Browse for more
wall art
on Zazzle