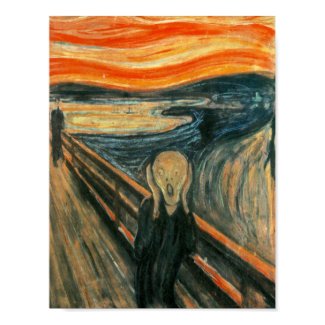 Munch "The Scream" at Sotheby's
The Scream Edward Munch
Munch's THE SCREAM is expected to sell for over $80 million at today's Sotheby's auction. What an incredible painting.
Munch's Scream
The Scream is the most recognizable painting by Munch -- the agonizing person running down the dock with a bright red backdrop. In Munch's diary in 1892, Munch described his inspiration for the painting:
"I was walking along a path with two friends – the sun was setting – suddenly the sky turned blood red – I paused, feeling exhausted, and leaned on the fence – there was blood and tongues of fire above the blue-black fjord and the city – my friends walked on, and I stood there trembling with anxiety – and I sensed an infinite scream passing through nature."