St. Augustine, Florida
It's always quite a surprise to see a vintage piece of art about my home town -- which happens to be St. Augustine, Florida. There's lots of art about this place, as tourists flock here to experience St. Augustine's history and go home with a St. Augustine keepsake.
This poster of "Fort Marion" is one I've never seen - I came across this Department of the Interior poster the other day. Of course, it's a bit before my time, but still -- you'd think there would be a poster remaining around town somewhere. The Fort Marion poster was published in 1938 by the National Park Service.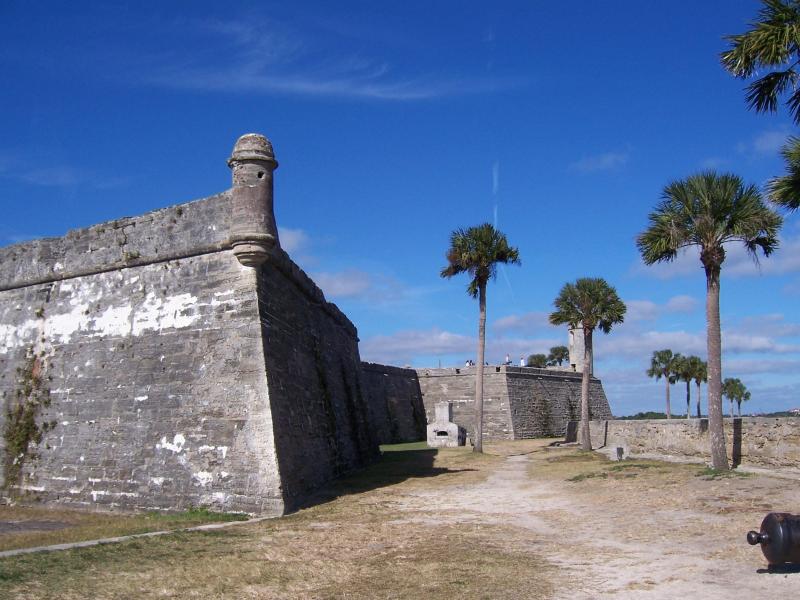 Castillo de San Marcos, St. Augustine
I've seen many artists paint the Fort. It's not an easy subject; it has long, straight, gray walls with dark shadows and not much landscaping. The poster actually is a very nice portrayal - it softens the colors, and fills in the moat with light turquoise water. In reality, the moat only fills with water when we have heavy rains.
About St. Augustine's Fort
St. Augustine, Florida is the home of The
Castillo de San Marcos,
the oldest masonry fort in the continental United States. This Spanish-era colonial fort sits on the edge of the Matanzas Bay , on the edge of St. Augustine Florida. The Spanish constructed the fort beginning in 1672, which was then taken by the British in 1763, and the fort was renamed
Fort St. Mark
until 1783, when Florida was transferred back to Spain. The city, and the fort, was ceded to Florida and then the United States in 1821 and renamed Fort Marion. That's the name on the vintage poster that we found showing a beautiful graphic representation of the Spanish St. Augustine fort. It was declared a national monument in 1924, and in 1942, the original name, Castillo de San Marcos, was restored. It's now under the jurisdiction of the United States National Park Service.