Vintage Chinese Green Bowl Design Depicting the Land, Sea, and Air
This vintage chinese design shows blue and orange horses running around a circular design meant for placing on a cloisonne enamel bowl. The design is actually a depiction of the air, land, and sea. The beautiful Chinese landscape is a plate from Owen Jones'
Examples of Chinese Ornament,
first published in 1867. Transcribed from Jones, this is his description:
"The inside and outside of a very finely executed bowl in cloisonné enamel. On the inside of the bowl we have a conventional representation of the land, the sea, and the air. The land by the flower on the island, the sea by the horses disporting themselves in the waves, and the air by bats and birds floating in clouds."
Owen Jones (1809 – 1874) was an architect and designer, working on then-modern color theory, and studied world patterns and ornament. He studied Islamic decoration at the Alhambra castle, did interior decoration and layout of exhibits for the Great Exhibition building of 1851, and determined decorative arts principles for design schools and published several books including the acclaimed
The Grammar of Ornament
sourcebook, which is still widely used as a source of vintage design.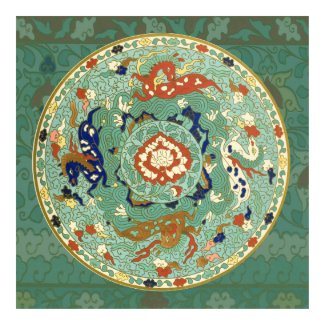 Vintage Chinese Blue Green Land Sea Air Horses
by
antiqueart
See more Doodlefly Posters at
zazzle.com